Diploma Frames
Frame Diploma Mahogany Braid W/Wtrcolor Denny Chimes W/Filet Black Suede
Our Price:

$299.95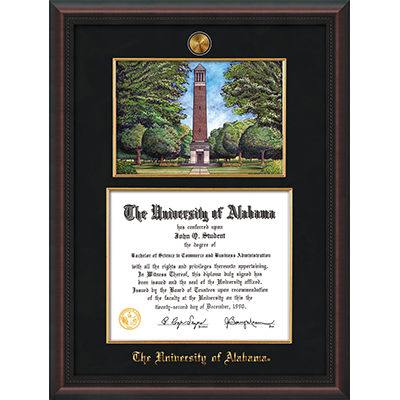 enlarge image
Product Description
Item Number 11649571


Ground Shipping Charges of $25.00 per frame.

If you select Next Day or 2nd Day shipping, the shipping charges will be changed by the Supe Store when your item is processed for shipping, after online checkout.
UPS Next Day $60.00
UPS 2nd Day $35.00.
This frame will work for all DNP candidates admitted after Fall 2016. DNP candidates prior to Fall 2016 will need to purchase a DNP styled frame.
University of Alabama - Mahogany Braid frame with 24K Gold plated Medallion and gold leaf embossing of school name with Black Suede mat(Suede mat adds a Rich, Vibrant, Textured Look). Diploma size: 8 1/2" x 11" - horizontal. (Approximate overall frame size: 18.5" x 24.5")
Designed for Bachelor's, Master's, and PHD degrees.
UV-protected glass
Mats are made of 100% acid-free cotton fiber to prevent aging and yellowing of documents
Customers who bought this item also bought