Caps And Gowns-- Bachelor And Master
Bachelor Cap & Gown
Our Price:

$44.95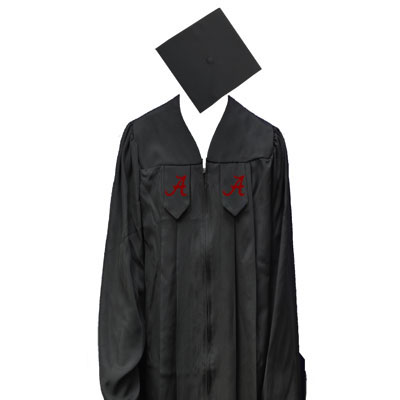 enlarge image
Product Description
Gown 5'-5'2" is currently out of stock. This item is available now as a pre-sell item. We have more on order, but they are not expected to be delivered until the end of February. Orders for this item will be backordered until we are able to fulfil the qty. You will receive an email notification once your order has been completed.

Item Number 12237524

4'9" - 4'11"—Up to 150 lbs.
5'0" - 5'2"—Up to 170 lbs.
5'3" - 5'5"—Up to 190 lbs.
5'6" - 5'8"—Up to 270 lbs.
5'9" - 5'11"—Up to 295 lbs.
6'0" - 6'2"—Up to 320 lbs.
6'3" - 6'5"—Up to 345 lbs.

Plus 1 4'9 - 5'5 over 220 lbs
Plus 2 5'6 - 5'11 over 295 lbs
Plus 3 6' - 6'5 over 350 lbs

All good things have to eventually come to an end. The University of Alabama Supply Store supplies graduating bachelors with the Bach C/C Greenweaver w/Tab (Made of recycled bottles). When you've finally completed your bachelor's degree and are standing proudly at The University of Alabama Graduation with friends and family, rest easy knowing you've got the right vestment. And when making your purchase, don't forget your tassel! Shop the University of Alabama Supply Store for all your needs for the graduation today.

- Available in heights 4'9" to 6'8" for graduates of all heights - Comes in plus sizes 1,2, and 3 to accommodate all students - Red "A" lettering on front lapels to stand out from other schools

Care instructions
Gown: Remove the gown and place on a hanger to allow the folds to fall out. Hanging in a high humidity area will accelerate this process. If you wish to press, turn inside out and press with a warm, not hot iron. Steaming is also an option. Do not apply direct heat as the gown may melt.

Mortarboard: Contrary to what you may have heard, caps should not be worn on the back of the head…the mortarboard should be worn flat on the head. The front of the cap is indicated on he inside of the crown. Listen to the instructions given to you at your ceremony on whether or not the caps are to be removed during parts of the ceremony.

Tassel: There is no general rule for the position for the tassel on the mortarboard, but they should all be worn on the same side. Many institutions have adopted the practice of wearing the tassels on the right side before the degrees are conferred and shifting to the left after all degrees are awarded.
Customers who bought this item also bought
Have you looked at these?