Study Aids & Barcharts
Nursing Grade Booster Pack Study Aid
Our Price:

$24.99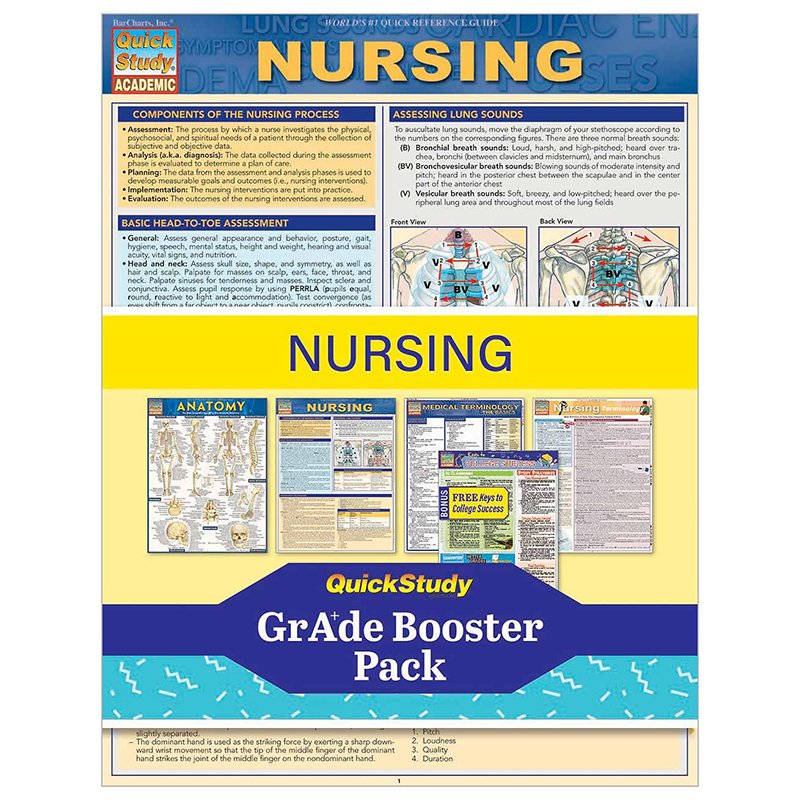 enlarge image
Product Description
Item number 13126711
BARCHARTS INC

Nursing Grade Booster Pack Study Aid
A winning combination of caregiving proportions, the Nursing Grade Booster Pack brings together an effective combination of study disciplines, guaranteeing better grades at a better price.
Titles include:
• Nursing Laminated Study Guide - Our thorough coverage of general nursing duties, including analysis and assessment techniques, just got better with our newly expanded and updated Nursing guide. Better organized information and detailed tables make this quick reference for nurses and students easier to navigate.
• Anatomy Laminated Study Guide - Complete labeled illustrations of over 1,400 anatomical identifications. Loaded with beautifully illustrated diagrams, clearly and concisely labeled for easy identification. Illustrations by award-winning medical illustrator Vincent Perez.
• Medical Terminology: The Basics Laminated Study Guide - This 6-page chart covers every aspect of the structure of medical terminology and its use in the field. Chart includes detailed information on the foundation of medical words the human body terminology sets five senses synonyms glossary
• Nursing Terminology Laminated Study Guide - All professional nurses know that an in-depth knowledge of tools, tests, equipment and products connected to their field is crucial to providing the best possible care to clients. Our 3-panel (6-page) guide covers these elements in a comprehensive, fluff-free style that is sure to be useful to veteran nurses or those just starting out.
• Bonus FREE | Keys To College Success Reference Guide - The Keys To College Success Reference Guide is filled with tips and tricks on getting the most out of college life. We've got everything covered from study skills and managing time wisely, to money matters and finding a job.

ISBN 1423236149Binding None
Customers who bought this item also bought